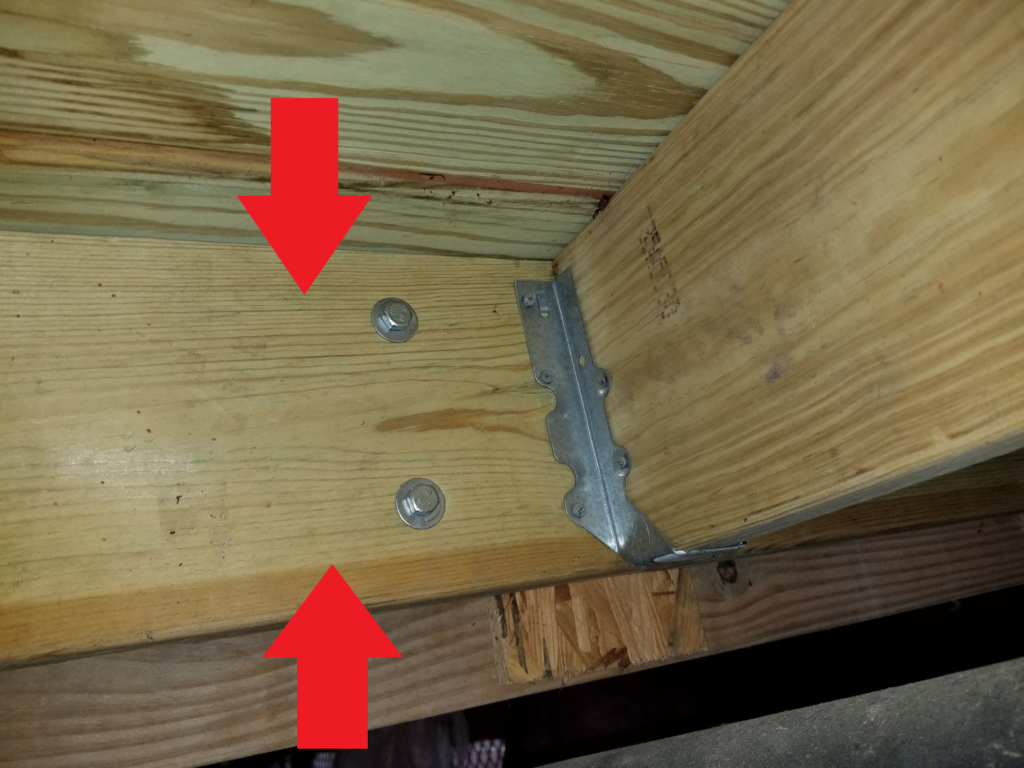 Ledger Board Overview
Ledger boards are structural members that are attached to a vertical area of the framing of a structure. Sometimes called a ribbon board or ribbon strip, the ledger board is used to attach a deck or porch to the framing of the main structure. It provides an attachment point for securing floor joists, support posts and decking materials.
The ledger board is the main structural support for many deck and porch designs, and therefore must be properly installed to minimize the possibility of potential deck or porch failure.
The ledger board should be regularly inspected as part of your routine home maintenance program. The board should be checked for any signs of moisture damage, cracking or loosening of the attachment fasteners.
Ledger board failure can cause a deck or porch to pull away from the main structure, which can result in significant property damage and can cause personal injury and possibly death to someone standing on the falling structure.
If you are unsure about how to inspect your deck/porch and ledger board, we recommend having the assembly regularly inspected by a qualified tradesperson and make repairs as needed.
Ledger Board Installation
There are a number of different types of construction and building codes that can affect the way that a ledger board is attached to a structure. There are also many different situational variables that can affect deck/porch design, such as anticipated usage, site specifics and expected loads. Each deck/porch and ledger board must be designed and installed according to the appropriate engineering principles that apply to the specific situation.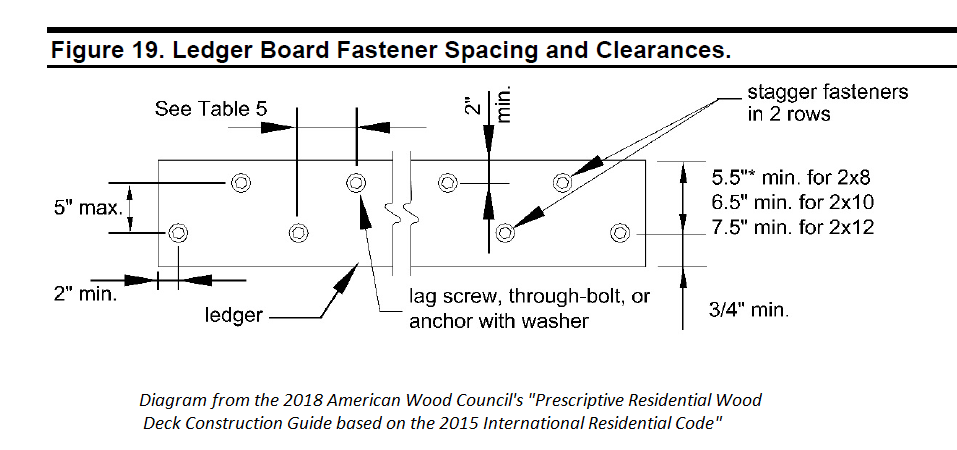 Unfortunately, the vast majority of deck/porch and ledger board installations are not performed according to current safety standards. Mistakes are often made during installation and construction. Some of the most common errors made when installing a ledger board include:
Failure to properly flash areas susceptible to moisture damage
Using the wrong type of fasteners
Not following the correct fastening pattern
Failing to install lateral-force reduction tie downs
Not following the manufacturer's specifications
Using techniques not designed for the home's specific construction materials
Failure to properly install a ledger board can have catastrophic implications. We routinely recommend that all ledger boards and deck/porch installations be thoroughly inspected by a qualified licensed engineer prior to purchasing a home and on a regular basis thereafter.
For an overview of proper ledger board installation, check out this article on attaching decks from FineHomebuilding.com.
For more information on specific code and construction guidelines, check out the American Wood Council's DCA6 – Wood Deck Construction Guide:https://www.awc.org/pdf/codes-standards/publications/dca/AWC-DCA62015-DeckGuide-1804.pdf